posted on 2011-11-23 |
No comments yet
If you are a hotel owner that is thinking about installing live chat for hotels on your website it may be helpful to first learn how to use the sales and marketing tool effectively. After all, you can install just about anything on your website, but if you are not using it to its maximum capabilities you will not see the difference reflected in the amount of bookings that you get each month. Ideally you should be able to see your sales go through the roof...
Read more...
---
posted on 2011-04-18 |
No comments yet
Every online business has three goals:
To make a profit (a nice way of saying Sell, sell, sell)
Maintain current customer base
Develop new customers
To understand these goals let's combine them into a single activity which will be called customer relations. By now, most businesses have a clear understanding, of how they approach customer and potential customer relations.
If your online business does not have a clear approach to customer relations, you may be short changing y...
Read more...
---
posted on 2011-03-24 |
No comments yet
As I give thought to the exciting use of live help services like those offered by ProvideLiveHelp I began thinking about you as an online chat operator and the multiple challenges you face. These include:
Being at the top of your game in responding to call,
knowing about the product and services you represent
keeping up with change of the day
Get the right information from your online customer.
The first thing you need to recognize is that many of the customer who you have con...
Read more...
---
posted on 2011-03-14 |
No comments yet
I'm like most folks; I'm hooked on my iPod. Now I'm not an iPod elitist, I happy to accept the existence of the Android and all those other handheld devices, but…well, let's save that thought for another time.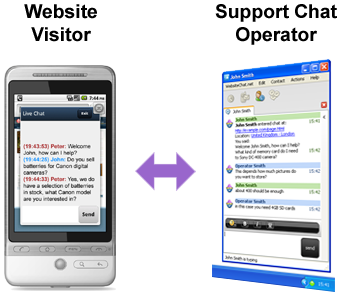 In fact, truth be known, I could probably be described as an iPod groupie. My issues go even deeper, I'm an addict, there, I've said it: I AM AN ADDICT! My addiction: IPod applications. It doesn't matter which one it is or what its go...
Read more...
---
posted on 2011-02-15 |
No comments yet
Do you own a network of websites and would you like to see a positive increase in your yields? Are you looking for a way to effectively manage customer support across all of your networks in one consolidated location? And, would you like to track your chat operators work load? Well, now you can with ProvideLiveHelp.com's amazingly affordable live chat operator software with a plethora of awesome features that will make chat operator management easier.
Effic...
Read more...
---