posted on 2011-03-14 |
No comments yet
I'm like most folks; I'm hooked on my iPod. Now I'm not an iPod elitist, I happy to accept the existence of the Android and all those other handheld devices, but…well, let's save that thought for another time.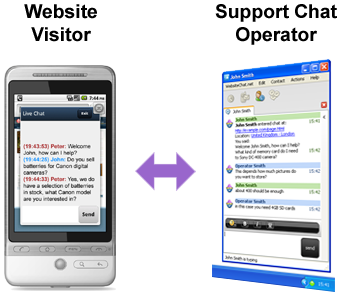 In fact, truth be known, I could probably be described as an iPod groupie. My issues go even deeper, I'm an addict, there, I've said it: I AM AN ADDICT! My addiction: IPod applications. It doesn't matter which one it is or what its go...
Read more...
---
posted on 2011-03-08 |
No comments yet
Most businesses are already aware of the fact that they can bolster their e-commerce sales by adding a live chat application onto their website. After all, this powerful marketing and customer service tool is a great way to give customers the instantaneous interaction that they need to feel comfortable about making a sale. However, in the age where technology continues to evolve the next wave of live chat software is already under development and promises to break even more barriers as it...
Read more...
---
posted on 2011-03-03 |
No comments yet
Far past learning how to use your website live help software proactively to encourage sales you may want to look into marketing tricks that will help you use it more effectively to encourage and prompt higher sales. Many different website marketers have found that the trick to using website help software is actually based on learning how to craft responses and invitations to customers based on the information that you have on hand. This can vary depending on the consumer and the [website ...
Read more...
---
posted on 2011-02-21 |
No comments yet
When people read about how they can use website chat software to help build awareness of the customer and convince for browsers to make a sale, they often think that they can use any information they gain during a website chat during future conversations. However, there is a fine line between using the website chat software to help increase sales by knowing your customers and using it as a tool that will make your customers feel as if they are being stalked. Obviously, you want to balance...
Read more...
---
posted on 2011-02-15 |
No comments yet
Do you own a network of websites and would you like to see a positive increase in your yields? Are you looking for a way to effectively manage customer support across all of your networks in one consolidated location? And, would you like to track your chat operators work load? Well, now you can with ProvideLiveHelp.com's amazingly affordable live chat operator software with a plethora of awesome features that will make chat operator management easier.
Effic...
Read more...
---