Manual
3. My Account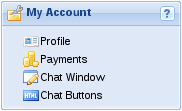 Figure 3.1 My Account panel.
Here you can manage your Company profile, payment options and obtain Live Chat button HTML code or customize your Chat Window.
Profile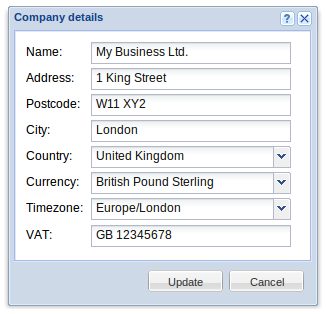 Figure 3.2 Company profile window.
To change your Company address details, click

link in My Account panel (see figure 4.1). Please make sure both your address details, prefered currency and VAT number (applicable to European Union countries only) are correct, as this will be used to prepare your invoices. Depending on your location and if VAT number is entered, the following VAT tax rules apply:
Current VAT rate applies to all UK customers
EU Business with a VAT Number will not be charged VAT
EU Individuals/business without VAT number - UK VAT applies
Customers outside EU, no VAT applies
Here you can also change your time zone, which will affect how dates and times are displayed in the Control Panel.
Payments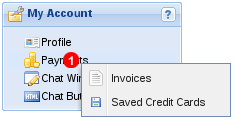 Figure 3.3 Payments menu.
To access your invoices or save Credit Card details click Payments link (1) in My account panel. See figure 3.3 above.
Invoices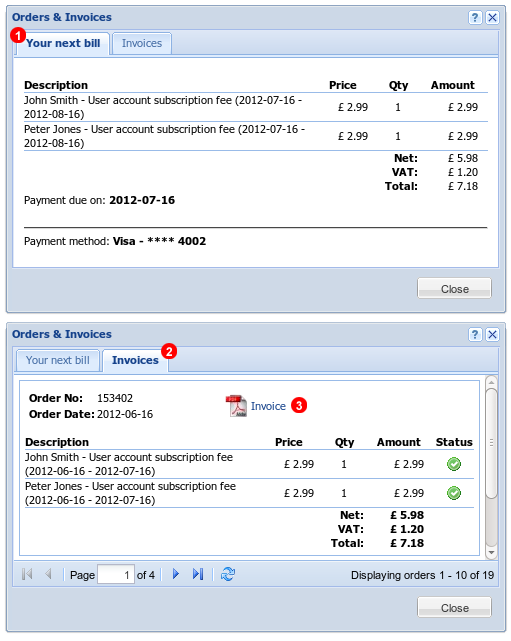 Figure 3.4 Orders and invoices window.
To view or print your invoices select

link from Payments menu (see figure 3.3).
Details of your next payment can be found in You next bill tab.
To view status of your orders click Invoices tab.
To download an Invoice in PDF format click link (3).
Saved Credit Cards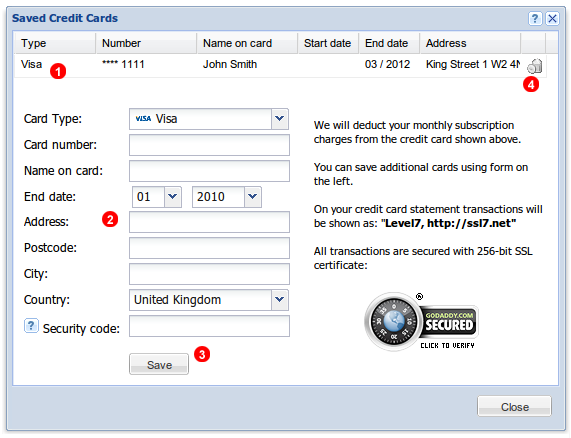 Figure 3.5 Saved Credit Cards window.
In order to pay for monthly subscription fees, you need to save details of at least one credit card, before your first invoice is due. To save credit card details, click

link in Payments menu. Next fill all fields in the form (2) and click Save button (3). If you no longer wish to use particular credit card for your payments, use delete button (4) to remove it from the system.
Chat Window
Here you can customize look and behaviour of your Chat Window.
General Settings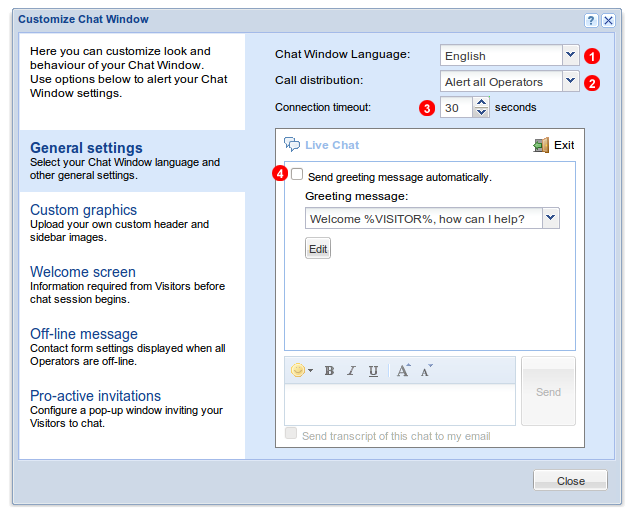 Figure 3.6 General settings.
In this tab you can configure following settings:
1. You can select Chat Window languages using drop down list located in the top right corner of General settings tab. Note: Chat Window language can be also configured dynamically by your website script. To switch language make your script change '/language/' string in the Chat Button HTML code as shown below:
[...]onclick="window.open('http://ssl7.net/chat/en/abc123abc123abc123/[...]
List of available language codes:
| | | | |
| --- | --- | --- | --- |
| sq - Albanian | ar - Arabic | az - Azerbaijani | eu - Basque |
| be - Belarusian | bg - Bulgarian | ca - Catalan | zh - Chinese |
| hr - Croatian | cs - Czech | da - Danish | nl - Dutch |
| en - English | et - Estonian | fi - Finnish | fr - French |
| gl - Gallegan | ka - Georgian | de - German | el - Greek |
| he - Hebrew | hi - Hindi | hu - Hungarian | is - Icelandic |
| id - Indonesian | ga - Irish | it - Italian | ja - Japanese |
| ko - Korean | lv - Latvian | lt - Lithuanian | mk - Macedonian |
| ms - Malay | mt - Maltese | no - Norwegian | fa - Persian |
| pl - Polish | pt - Portuguese | ro - Romanian | ru - Russian |
| sr - Serbian | sk - Slovak | sl - Slovenian | es - Spanish |
| sv - Swedish | th - Thai | tr - Turkish | uk - Ukrainian |
| ur - Urdu | vi - Vietnamese | cy - Welsh | yi - Yiddish |
2. Incoming calls can be passed to one or more available operators:
Alert all Operators - Calls will be passed to all online operators
Alert one Operator - Calls will be passed to the less loaded operator (by random)
3. Connection timeout - how long Visitor will be presented with "Connecting..." window before off-line message window is displayed.
4. Maximum chats per agent - how many simultaneous chat sessions one agent can handle.
5. In single operator call distribution mode you can choose to automatically send "Canned response" - see chapter 4.1 - to your Visitor before Operator actually answers the call.
Custom graphics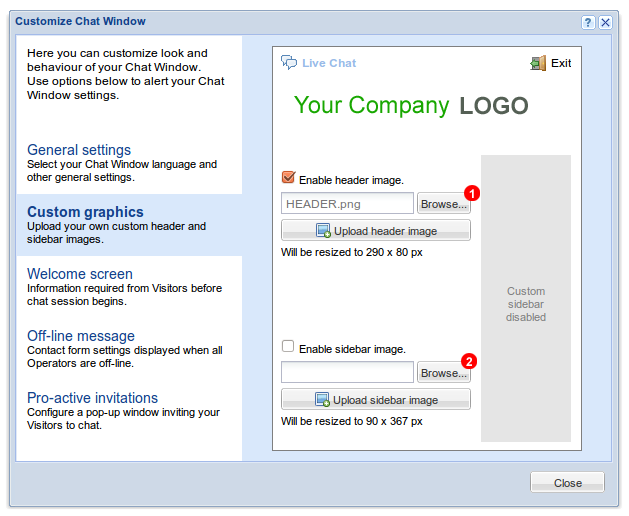 Figure 3.7 Custom graphics.
Using this tab you can upload your own (1) Header image and (2) Sidebar image. Dimensions of your images will be resized to respectively 290x80px and 90x367px. Only one custom graphics slot can be active at the same time.
Welcome screen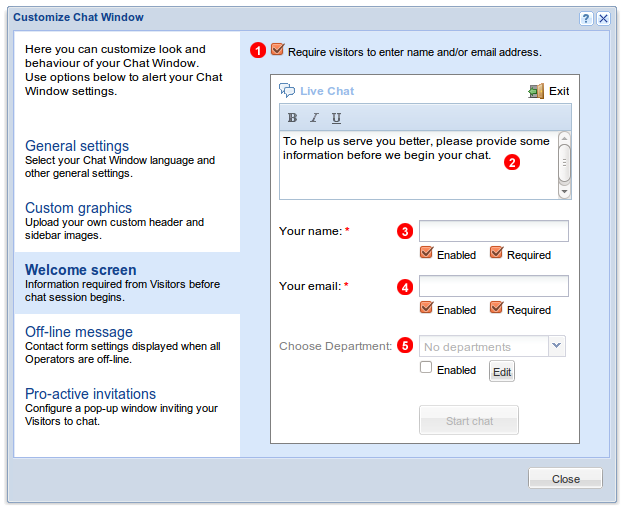 Figure 3.8 Welcome screen.
Here you can decide if your website visitors should enter their name and email address before Chat session begins. If check box (1) is checked, before chat is routed to one of your Company operators, a welcome screen will display. If check box is unchecked chat session begins immediately and your visitor name will appear as Guest. Welcome message can be customized in a field (2). You can also enable or disable (and mark as required) Name and Email fields. To enable Department selection (5) drop down list, you need to define at least two departments.
Off-line message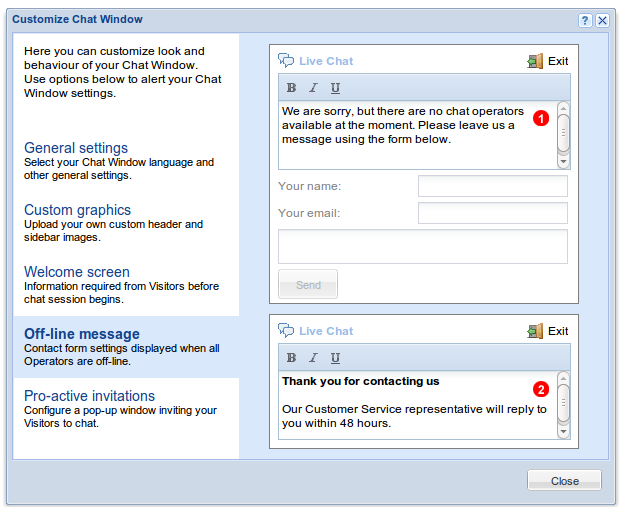 Figure 3.9 Off-line message.
Here you can customize a message (1) displayed to your website visitors when there are no available Chat operators. You can also change message displayed after off-line message is submitted (2).
Automatic chat invitations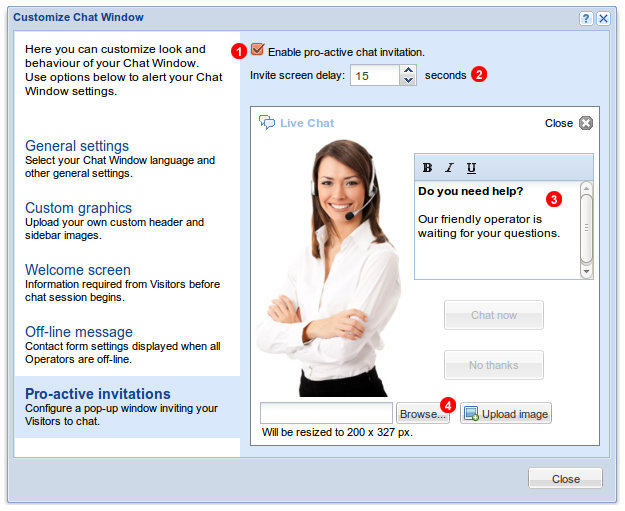 Figure 3.10 Automatic chat invitations.
Here you can enable automatic chat invitations. When visitor stays on the same web page for a defined period of time an automatic chat invitation pop up window will be displayed - see figure 3.9 above. To enabled automatic invitations:
NOTE: Visitors Tracking must be activated first - see chapter 6. Visitors Tracking for detailed instructions how to enable it.
Tick check box (1).
Set number of seconds before invite screen is displayed (between 5 and 360 seconds).
Enter your chat invitation message.
Optionally you can upload your own image.
Please note: if a visitors clicks "No thanks" button, invitation window will not be displayed to this person any more.
Google Analytics integration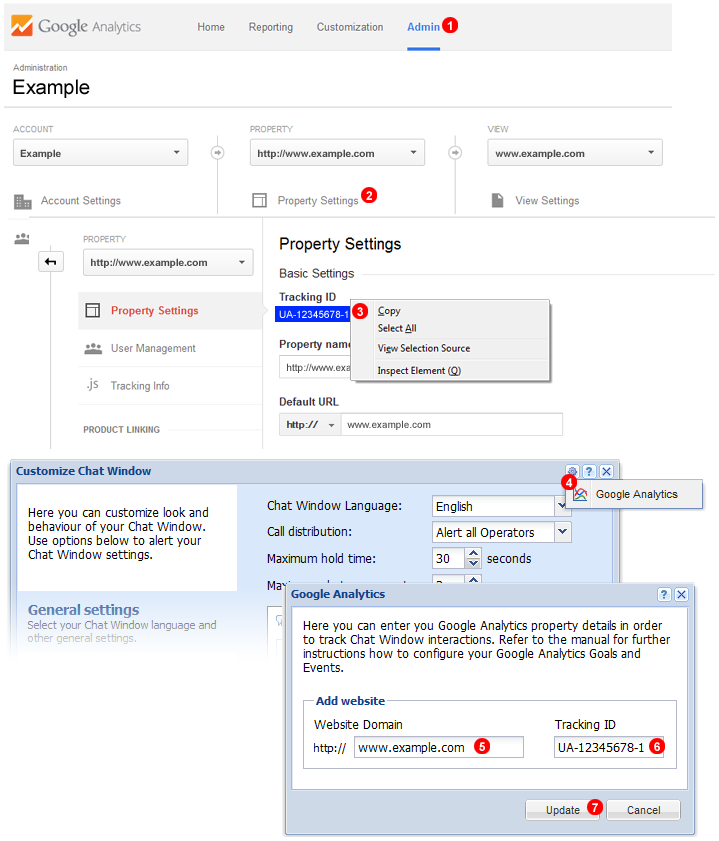 Figure 3.11 Google Analytics integration.
To allow for tracking Live Chat window Events in your Google Analytics account:
Login to your Google Analytics account and go to Admin section.
Click Property Settings link.
Highlight and copy to the clipboard your Tracking ID
In Customize Chat Window click gear icon located in top right corner and select Google Analytics
Enter your website domain
Paste your Google Analytics Tracking ID
Click Update button.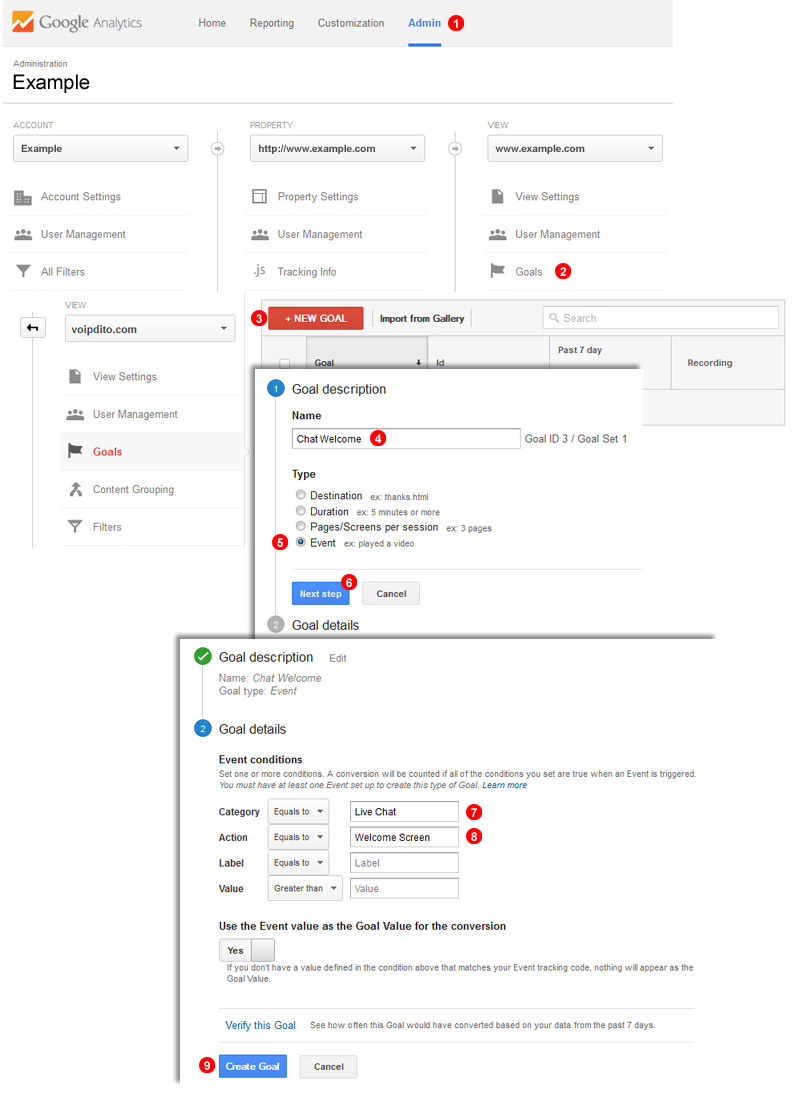 Figure 3.12 Google Analytics events.
Second step in integrating Live Chat with Google Analytics is adding Goals (or Events):
Go to Admin section of your Google Analytics account.
Click Goals link.
Click NEW GOAL
Enter Chat Welcome as Goal name.
Select Event as Type.
Click Next step button.
Enter Live Chat into Category field.
Enter Welcome Screen into Action field.
Click Create Goal button.
Repeat steps 3 - 9 above to create two additional Goals using the following parameters:
Goal Two:
Goal name: Chat Session
Category: Live Chat
Action: Session
Goal Three:
Goal name: Chat Offline
Category: Live Chat
Action: Offline Message
Chat Buttons
Here you can find HTML code for Live Chat buttons. To open Chat Buttons window click

link in My Account panel.
Standard Buttons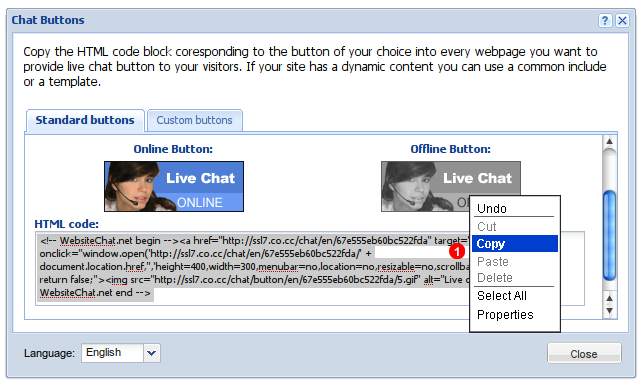 Figure 3.13 Standard chat buttons.
Standard chat buttons are provided as a convenient way of adding Live Chat functionality to your website. To use one of our standard buttons:
Click HTML code corresponding to your selected button in order to highlight it.
Right click on highlighted HTML code (1) and select Copy from context menu (or press Ctrl+C key).
Open your web page, where you want to add Live chat button, right click and select Paste (or press Ctrl+V key).
Available standard chat buttons:
Custom Buttons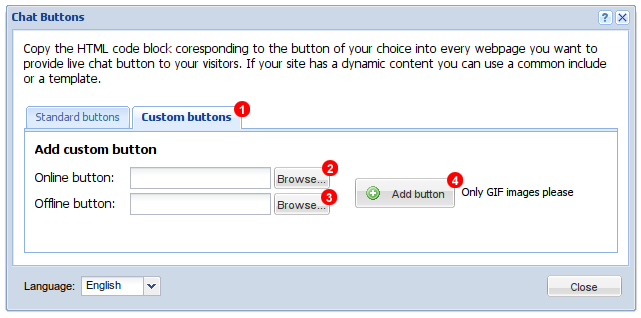 Figure 3.14 Custom chat buttons.
Our standard buttons may not always fit into the design of your website. Therefore we provide a way to upload your own graphic files (in GIF format) which can be used as Live Chat buttons on your web pages. In order to use this facility, you will need to prepare two GIF images. One for "online" button, which will be displayed when at least one Chat Operator is available. Another one for "offline" button, which will be displayed when there are no available Chat Operators. To upload your custom button:
Click Custom buttons tab (1).
Select online button file in field (2).
Select offline button file in field (3).
Click Add button (4). Your custom button HTML code will be generated instantly.
Button Language
You can select one of the following Chat Button languages using drop down list located in the bottom left corner of Chat Buttons window:
Albanian, Arabic, Azerbaijani, Basque, Belarusian, Bulgarian, Catalan, Chinese, Croatian, Czech, Danish, Dutch, English, Estonian, Finnish, French, Gallegan, Georgian, German, Greek, Hebrew, Hindi, Hungarian, Icelandic, Indonesian, Irish, Italian, Japanese, Korean, Latvian, Lithuanian, Macedonian, Malay, Maltese, Norwegian, Persian, Polish, Portuguese, Romanian, Russian, Serbian, Slovak, Slovenian, Spanish, Swedish, Thai, Turkish, Ukrainian, Urdu, Vietnamese, Welsh and Yiddish.
Custom variables
You can pass custom variables to Chat Window by adding extra elements to HTML Chat Button code. The standard Chat Button code has the following onclick attribute:

onclick="window.open('http://ssl7.net/chat/en/abcdef0123456789/'+document.location.href,'','height=400,width=300,menubar=no, location=no,resizable=yes,scrollbars=no,status=yes');"

You can add three custom variables separated by comma as shown below:

onclick="window.open('http://ssl7.net/chat/en/abcdef0123456789,name=Visitor+Name,email=visitor@email.com,operator=10002/'+document.location.href,'','height=400,width=300,menubar=no, location=no,resizable=yes,scrollbars=no,status=yes');"

This way you can pre-populate Visitor's name and email information that otherwise would be collected on Welcome Screen form. Also by specifying operator SIP username - (see Figure 4.3) you can bypass normal chat routing mechanism and direct Visitor to a specific operator.