Manual
2. Quick Start
Login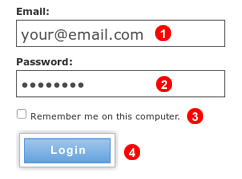 Figure 2.1 Login form.
To login into the control panel navigate your web browser to http://websitechat.net/login and enter your email address into field (1) and password into filed (2). Optionally you can select "Remember me on this computer" checkbox (3) to have your email address saved. Finally click Login button (4).
User Interface overview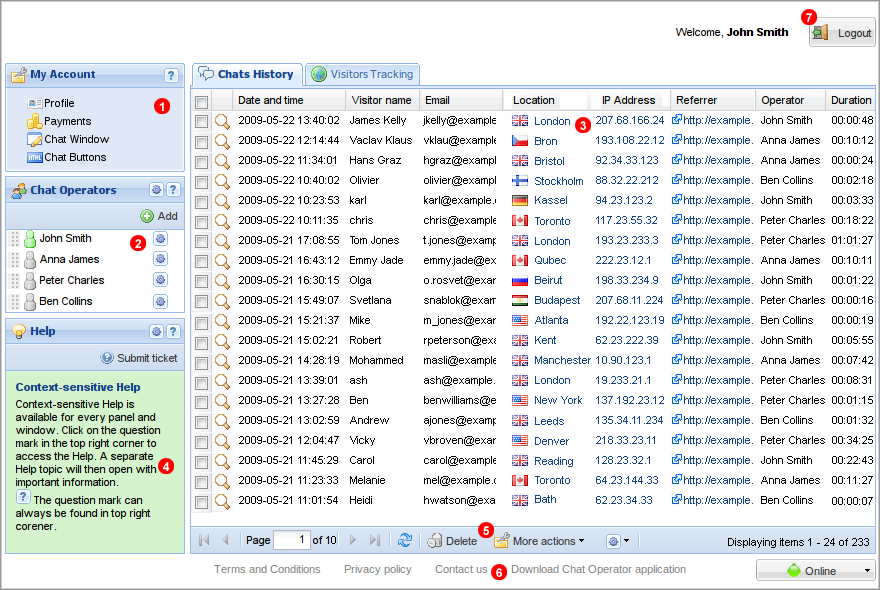 Figure 2.2 Control Panel.
My Account panel - here you can edit your company profile, view and print invoices, save credit card details and obtain HTML code for your chat buttons.
Chat Operators panel - here you can add or edit chat operator accounts.
Main Tabs - here you can view history of all chat sessions and track your visitors in real time.
Support Centre panel - this panel gives you access to context sensitive help. Also here you can submit tickets to our support team.
Toolbar - here you can delete chat session and manage advanced settings (eg. blocked IP addresses)
Footer section - here you will find various links, including the one do download Chat Operator application.
Logout button - every time you want to close your session in control panel click this button.
Install Chat Operator application
This application needs to be installed on every PC you want to use for receiving chat requests from your website visitors. To install Chat Operator application follow steps below:
Click Download Chat Operator application link in the bottom part of your control panel. See footer section (5) in figure 2.2.
Select your operating system.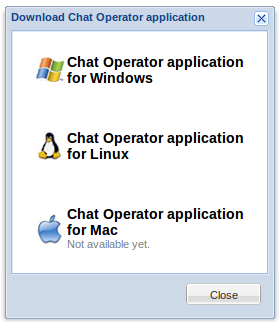 Figure 2.3 Chat Operator application download window.
Save and install Chat Operator application on your PC. See chapter "Chat Operator application" for detailed instructions.
Start Chat Operator application, log in with your email address and password. Make sure there is a green dot in your task bar, indicating Chat Operator application is working correctly.
Obtain HTML code for your Live Chat button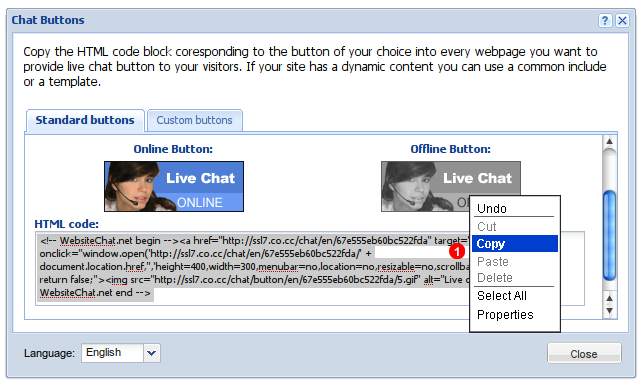 Figure 2.4 Chat buttons window.
Click link in My Account panel. See panel (1) in figure 2.2.
In Chat Buttons window you can select one of our ready made buttons, or upload your own button using Custom buttons (2) tab. See chapter "Custom buttons" for detailed instructions how to upload your custom graphics.
Once you decided which button suits your websites design, select and copy it's HTML code (1) into a clipboard.
Paste HTML code into your web page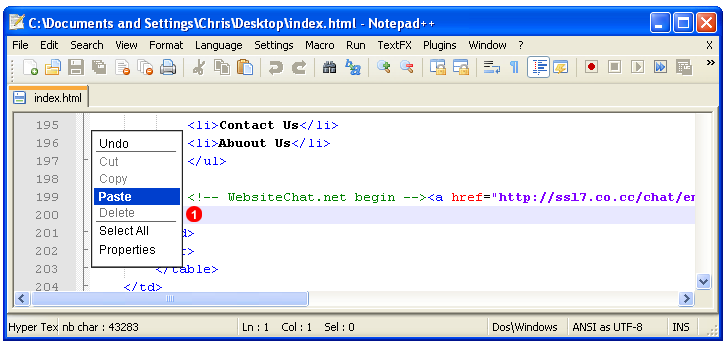 Figure 2.5 Text editor with HTML code.
Open HTML code of your web page in a text editor.
Paste Live Chat button code (1) into your web page.
Test Live Chat session

Figure 2.6 Live chat session.
Click Live Chat button (1) on your website.
Enter your name and email address into a start form (2) and click Start Chat button (3).
Chat Operator application will indicate (4) a new chat request on the operator PC.
You can start conversation by typing messages into a chat window (5).